Gotta Eat: Indiana Food Processing
People have to eat—even during recessions. Food processing has been among the most stable of manufacturing industries throughout the recession and we have seen the availability of processed (manufactured) food expand significantly over the past few decades, with a dizzying array of products appearing on grocery store shelves.
Indiana has a long history in food processing, such as Clabber Girl in Terre Haute. It began as Hulman & Company more than 150 years ago, according to the company website (www.clabbergirl.com), and eventually renamed itself Clabber Girl in 1923.
The range of food processed in Indiana includes meat, dairy, grains, sugar, fruits, vegetables and baked goods. Meat (animal) processing is by far the biggest employing industry in the food sector. According to the 2010 Annual Survey of Manufactures, there are nearly a half-million jobs (479,556) nationally and 8,804 such jobs in Indiana. Most folks seem to want hamburger buns and tortillas with their meat, so it's no surprise that the bakeries and tortilla manufacturing industry have the next highest number of jobs, with more than a quarter million nationally (247,588) and 7,685 in Indiana.
Food Firms Fluctuate
Hoosier establishments engaged in processing food varied in number from 2001 to 2011, peaking in 2002 with 483 plants and reaching a low of 465 in 2009. Some of this variation in the number of plants might be caused by mergers and acquisitions, which can be significant in the food industry. Some closures were also the likely result of the recession. By the third quarter of 2011, the number of establishments in Indiana engaged in making food was at 478, the same number as in 2008 just prior to the recession (see Figure 1).
Figure 1: Indiana Food Manufacturing Establishments, 2001 to 2011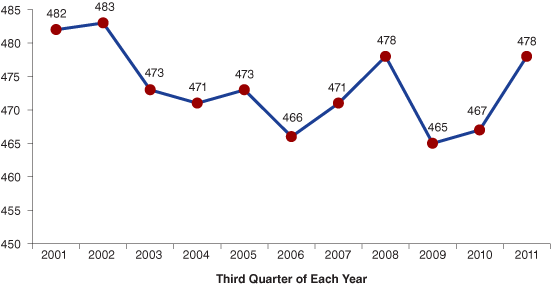 Source: IBRC, using Quarterly Census of Employment and Wages data
Jobs in Food Firms Relatively Stable
The number of jobs in the food processing industry remained relatively stable throughout most of the decade and the trend was toward year-to-year growth except for 2009, when the numbers declined slightly (see Figure 2). By the third quarter of 2011, the number of jobs had risen to 34,696 with an average weekly wage of $805. While the number of firms may have declined over the decade, the average number of employees working at each firm rose from 66 in 2001 to 73 in 2011.
Figure 2: Indiana Food Manufacturing Jobs, 2001 to 2011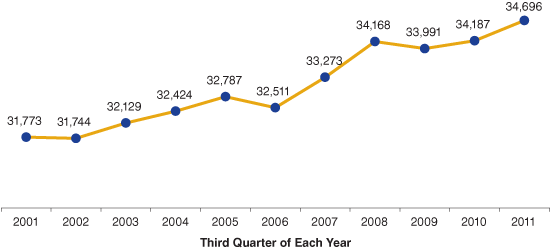 Source: IBRC, using Quarterly Census of Employment and Wages data

A Bit More on the Meat Processors
The biggest meat producers in the United States include Cargill, Tyson and Smithfield. Tyson has plants in Indiana processing pork and poultry (in Logansport and Corydon), while Cargill has small units in Indiana dealing with grain and farm supplies (in Bremen and Linden). Company research by the author didn't turn up any Smithfield-affiliated units in Indiana.
Indiana's Largest Food Manufacturers
Largest employers in this sector include national brands as well as more regional or Indiana-focused firms. Table 1 lists the largest employers (employing 500 or more), along with a brief description of the food product. Tyson, for example, has multiple plants in Indiana—the two largest are Tyson Fresh Meats, which processes pork products, and Tyson Foods, which handles poultry.
Table 1: Indiana Food Manufacturers with More than 500 Employees, 2012
| Company | Location | Description of Food Products |
| --- | --- | --- |
| Tyson Fresh Meats | Logansport | Pork processing |
| Lewis Bakeries, Inc. | Evansville | Bakery products |
| Indiana Packers Corp. | Delphi | Meat packing (Trade name Indiana Kitchen) |
| Frito-Lay | Frankfort | Snack foods |
| Wonder Bread | Indianapolis | Bakery products |
| Tyson Foods, Inc. | Corydon | Poultry processing |
| Red Gold, Inc. | Orestes | Canned foods, especially tomatoes |
| National Starch | Indianapolis | Wet corn milling for starch |
| Lawrenceburg Distillers | Greendale | Alcoholic beverage distillers |
| Kraft Foods | Kendallville | Variety of foods |
| Hostess Brands, Inc. | Columbus | Wholesale bakers |
| Farbest Foods, Inc. | Huntingburg | Poultry (primarily turkey) processing |
| Coca-Cola Bottling Co. | Indianapolis | Beverage bottling |
| Ameri Qual Group | Evansville | Shelf-stable food products (Dept. of Defense is a big client) |
| Zachary Confections | Frankfort | Chocolates and other confections |
| Sensient Flavors LLC | Indianapolis | Flavorings |
| Nestle USA | Anderson | Variety of foods |
| Pretzels, Inc. | Blufton | Private-label supplier of pretzels and other products |
| Pace Dairy of Indiana | Crawfordsville | Cheese and other foods for Kroger |
| Morgan Foods, Inc. | Scottsburg | Canning |
Source: InfoGroup USA
For more information, check out industry code 311 on STATS Indiana's Employment and Earnings topic page.
Carol O. Rogers
Deputy Director and Executive Editor, Indiana Business Research Center, Indiana University Kelley School of Business