Hungary: Countries IN Profile
Hungary is positioned between Austria and the former Soviet republic of Ukraine and has traditionally been the crossroads between Eastern and Western Europe. Covering 35,919 square miles, Hungary is roughly the same size as the state of Indiana, but with a larger population of approximately 10 million. Hungary ranks 36th on the United Nation's newly revised Human Development Index compared to the United States which ranks fourth (see Table 1).
Table 1: Human Development Index (HDI), 2010
| HDI Measures | Hungary | United States |
| --- | --- | --- |
| HDI Value | 0.81 | 0.90 |
| Life Expectancy at Birth (years) | 73.88 | 79.58 |
| Mean Years of Schooling (of adults) | 11.67 | 12.45 |
| GDP Per Capita (PPP* U.S. Dollars) | $17,472 | $47,094 |
*Purchasing power parity (PPP) means that the exchange rate is adjusted so an identical good in two different countries has the same price when expressed in the same currency.
Note: The UN has recently changed its HDI Index components so this table is not directly comparable to those in previous articles.
Source: Human Development Reports
Economy
Hungary joined the European Union (EU) in 2004 and since that time has experienced a decreasing rate of economic growth (see Figure 1). The Hungarian economy has performed poorly during the recession, experiencing a decline in its gross domestic product (GDP) of 6 percent in 2009 and required $18 billion in balance of payment assistance from the International Monetary Fund.1 The newly elected national government2 has planned cuts in both personal income and corporate taxes while simultaneously attempting to pay down the deficit by implementing so-called crisis taxes on energy, telecommunications and retail industries (targeted because they are all largely funded by foreign capital).3 Hungarian popular opinion is reported as being hostile to foreign investment. The new national leaders of Hungary have been reported as stating that they are not anti-business even though they are critical of the previous government for protecting foreign capital rather than the Hungarian people.4
Figure 1: Annual Change in Real GDP, 2000 to 2012*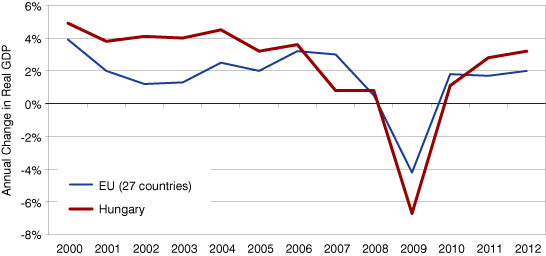 *2011 and 2012 are projections
Source: IBRC, using Eurostat data
Like most European countries, Hungary has accrued a significant level of public debt. In 2001, the debt-to-GDP ratio was below the European average, but Hungary's public debt has steadily increased, surpassing the European average in 2005 even before the global financial crisis began (see Figure 2). Public opinion views the recent economic crisis as the fault of foreign economies. As a result, Hungary has rekindled its relationship with Russia. Hungary's most notable defiance of the EU has been its decision to support the Russian-owned Gazprom pipeline over the Western European alternative. While the newly instated center-right government has announced that it supports both pipelines equally in order to avoid what it described as one-sided energy security, rejecting the EU initiative suggests that Hungary is still not as thoroughly committed to its Western neighbors as other Eastern European countries.
Figure 2: Government Debt as a Share of GDP, 1998 to 2009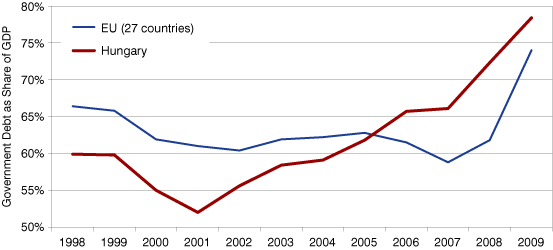 Source: IBRC, using Eurostat data
Trade
Hungary's manufactured exports mainly consist of electric and electronic equipment, machinery, foodstuffs and chemicals.5 More specifically, Hungary's largest export by dollar value in 2009 was electric machinery including parts for sound and television equipment (see Figure 3). The United States primarily purchases industrial machinery followed by electrical machinery and transportation equipment. Indiana tends to import fabricated metal products, computer products, and electrical equipment, appliances and components from Hungary.
Figure 3: Hungary's Exports to the World, 2006 to 2009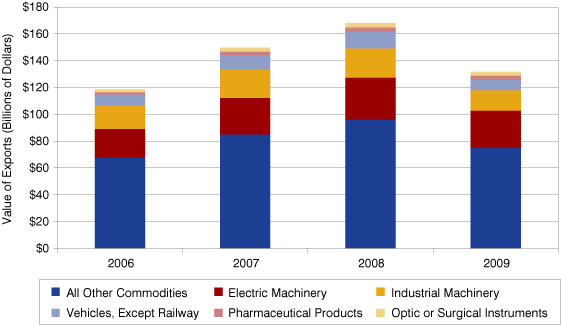 Source: IBRC, using WISERTrade data
Indiana exports transportation equipment to Hungary, along with fabricated metal products and machinery excluding electrical products (see Figure 4). Indiana is the fourth largest exporter to Hungary in the Midwest and the eighth largest in the U.S. as a whole. Hungary ranks 70th among U.S. trading partners as a destination for American goods, below countries such as Haiti and the Ukraine. However, the United States is an important destination market for Hungary, ranking 13th among Hungary's trading partners.
Figure 4: Indiana's Exports to Hungary, 2006 to 2009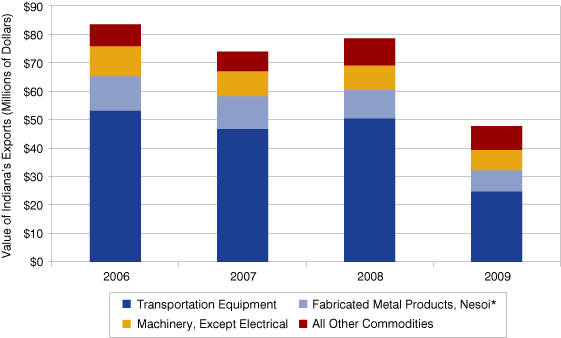 *Not elsewhere specified or included
Source: IBRC, using WISERTrade data
Hoosier investment in Hungary has been limited, primarily due to the relatively limited quantity of trade between the two regions. Hungary's domestic market ranks 43rd among all destinations of Indiana's exports. Only recently has an Indiana-based company expressed interest in investing in Hungary. In September 2010, Indianapolis-based Allison Transmission, a manufacturer of transmissions and parts for trucks and other vehicles, announced an $18.3 million expansion of its existing operations in Hungary that will support approximately 170 additional jobs. Another significant investment in Hungary in the past decade was the construction of a second manufacturing plant by Indiana's Remy International Inc. which makes starters, alternators and electrical components and recently received an award from Automotive News for their innovation in electric motor technology.6
Conclusion
Hungary has experienced a turbulent history throughout the twentieth century. Historic hostility to foreign corporations has intensified with the most recent economic difficulties. The recent ascendency of the Fidesz party in Hungarian politics is seen as further stoking opposition to foreign investment.
Indiana's economic relationship with Hungary is limited, with trade largely confined to electrical and transportation-related products. As the Hungarian economy struggles with the global recession, it appears unlikely that the government will embrace a policy of fostering growth by means of stimulating trade and investment. Given Hungary's recent history and likely economic future, short-term opportunities for strengthening economic ties with Indiana appear limited.
Notes
Matthew Hutchinson
Research Assistant, Indiana Business Research Center, Indiana University Kelley School of Business