Print this article
From a Lost Job to a New Career
In today's rapidly transforming economy, dislocations and disruptions are inevitable for various segments of the workforce as employers adapt to changing circumstances. Indiana's Department of Workforce Development (IDWD) assists Hoosiers whose jobs have changed or disappeared prepare for new careers. The Research and Analysis arm of IDWD is looking to new skills-based career clusters to assist workers with those transitions. Skill assessments may direct dislocated workers to new careers that require similar skills in seemingly unrelated occupations or industries.
Based on previous analysis, the department found 10 basic skills important for all employment. (1) It also found other skills that differentiate occupations into four career clusters, or occupational groups, highlighted in last month's issue of InContext. (2) Table 1 lists the skills that differentiate the four new career clusters.
Table 1: Skills in Each of the Four Career Clusters
Which Industries Have the Most Layoffs?
The Mass Layoff Statistics (MLS) program of IDWD uses data from unemployment insurance claims to track major job cutbacks. When an establishment's employees file at least 50 initial claims for unemployment insurance during a consecutive five-week period, IDWD contacts them to determine whether the separations are permanent. A mass layoff is identified, studied and tracked when these separations last more than one month.
Table 2 shows the industry super-sector and specific industries that have had the highest number of separations (layoffs) since 2000. A total of 72,813 layoffs occurred over this six-year period. About 34 percent of these cutbacks have been in manufacturing or trade, transportation and utilities. Figure 1 depicts the reasons cited by the establishments for the mass layoffs. Company reorganization or some sort of financial difficulty accounts for most layoffs (58 percent); while overseas relocation and import competition was cited in only a combined 9 percent of cases.
Table 2: Industry Supersector with the Highest Number of Separations Since 2000
Figure 1: Primary Reason for Separation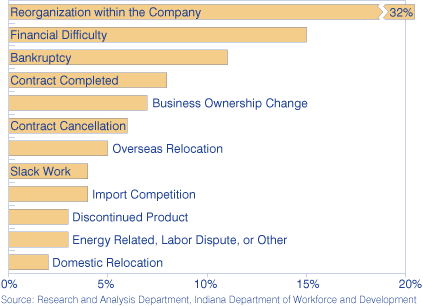 Occupations Lost
Which occupations are at risk within these industries? Mass Layoff Statistics do not provide IDWD with a listing of occupations. However, using staffing patterns developed from the Occupational Employment Statistics program for those industries cited in Table 1, the Advanced Economic and Market Analysis section of IDWD (AEMA) derived specific occupations. The 25 occupations AEMA estimates to have lost the most employment (at least 650 separations) are shown in Table 3.
Table 3: Occupations with the Most Losses in Employment Since 2000 by Educational Attainment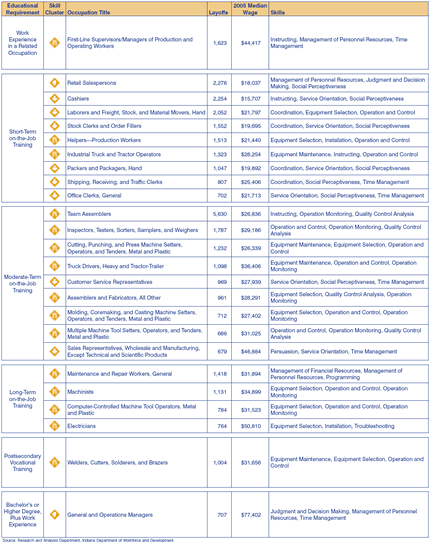 Click for zoomable pdf
Table 3 also shows the skills the workers affected by these mass layoffs possess. How can these skills be updated or reapplied to provide the worker with success in a new career or industry? While industry experience plays a role in the hiring process, the skills necessary for occupational success often transfer across industries. For example, a general and operations manager whose job in the manufacturing sector has been eliminated may still have the same skills necessary for a different job in another industry, such as health care or construction. Machinists and assemblers working in one sector of manufacturing may have the operational skills (a Things skill) needed in another growing sector or in one of the high-wage and high-growth occupations listed in Table 4.
Table 4: Hot Jobs—High Wage, High Demand Occupations in Indiana
New Career Opportunities
To illustrate the practicality of the new skill clusters, we will examine a few possible career path scenarios from the perspective of a worker who has lost his or her job. First, consider the office clerk, whose occupational prospects have diminished with the new technology of the information age. An office clerk has been developing People skills such as service orientation, social perceptiveness and time management. These skills are also vital to the emerging People occupations of legal secretaries and paralegals. Both of these occupations also value time management. However, to follow this career path our office clerk may also need some additional education and training. A postsecondary vocational training degree will be needed to succeed as a legal secretary, and an associate's degree should be acquired to find work as a paralegal. While our office clerk is returning to school, he or she may need to find temporary work in food service or as a cashier. Although this may seem like a setback, in the long run these positions will further develop the worker's People skills (such as coordination and decision-making skills). Each new skill and each additional year of education will lead to higher wages and job stability. With just one year of postsecondary training and skill development, the laid-off office clerk will have the qualifications to find work as a legal secretary and increase his or her salary from $21,713 to $29,941. A two-year associate's degree will increase the salary to $35,160 as a paralegal.
Next, consider the production worker with a salary of $21,440 and the metal casting machine operator (average salary $27,402) who lost their jobs. Both of these workers have developed equipment selection, operation and control, and installation skills. These are also the three most important skills necessary to succeed as a structural iron and steel worker, which ranks on Indiana's Hot Job list with an average salary of $48,434.
Lastly, think about the retail salesperson, who has been making approximately $18,037 annually. Whether he or she worked for a department store, a lawn and garden store, or even a local grocer, that person has been developing Systems skills (including management and coordination experience). With an interest or previous work experience in landscaping or construction, the salesperson may find work as a first-line supervisor, making $31,000 to $51,000 annually, depending on industry and experience. Many other Systems and Information cluster occupations will require additional education or training. However, the skills mentioned throughout this article and in the enclosed tables will prove beneficial and necessary for occupational growth. Skill development will lead to worker success in an emerging or expanding occupation. All workers will open new doors of opportunity and increase their personal income by building their skills, through work experience, vocational training and/or higher education.
Conclusion
The above analysis should illustrate the wide range of potential career opportunities available to Indiana's workforce and the importance of all types of skills in today's fast-paced and unpredictable economy. With a renewed focus on skills, AEMA hopes to better prepare the workforce to achieve their career goals. In some cases, additional education or training may be required; in others, it may be a simple matter of recognizing workers' existing skills. The skills necessary to succeed transcend industry—from manufacturing to health care and information. As dislocated workers, new job seekers and career counselors analyze future opportunities, the hope is that we will all gain new understanding of the transferability of skills from declining to emerging occupations. Further encouraging Indiana workers to focus on developing their skills and abilities will benefit employers and future economic growth in the state.
Notes
Active Learning, Active Listening, Critical Thinking, Learning Strategies, Mathematics, Monitoring, Reading Comprehension, Science, Speaking, Writing
Allison Leeuw, "The Butcher, the Baker and the Candlestick-Maker Revisitied: Indiana's New Skills-Based Career Clusters," InContext, 7 (12): 8–9.
For more data, visit Hoosiers by the Numbers at www.hoosierdata.in.gov/
Allison Leeuw, Research and Analysis Department
Advanced Economic and Market Analysis Group, Indiana Department of Workforce Development