Print this article
Region 3: Northeastern Indiana
The Area
Region 3, bordering Michigan and Ohio, is comprised of nine counties in northeastern Indiana: Adams, Allen, DeKalb, Huntington, Lagrange, Noble, Steuben, Wells and Whitley. Region 3 is home to Pokagon, Chain O' Lakes and Ouabache State Parks as well as a large Amish population. Fort Wayne, the region's largest city, was built on the meeting-point of three rivers: Maumee, St. Mary's and St. Joseph.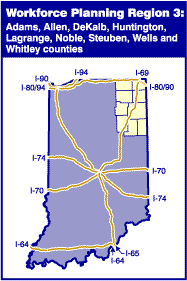 Recent civic developments in the region include a $24 million renovation of the Allen County Memorial Coliseum, and an $84 million renovation of Allen County's main Public Library and its 13 branches. A juvenile correctional center is scheduled to be built in Fort Wayne, and a new Fort Wayne women's hospital recently opened along I-69.
Population
Region 3 is dominated by Allen County and its largest city, Fort Wayne. In 2000, more than 600,000 people, or 10% of the Hoosier population, resided in Region 3, making it the third most populated region in Indiana. Allen County is home to 331,849 people-almost 54% of the region's population. Fort Wayne has a population of 205,727. Each of the other eight counties' share of the regional population ranges from 5 to 7%.
The area population grew 11.9% from 1990 to 2000, making it the second fastest growing region in the state. This area is projected to grow another 6% by the year 2020. Census data also indicate the regional population is becoming more diverse. Although the majority of the population (89.5%) is of the white race, the number of residents of Hispanic origin increased 147% between 1990 and 2000.
Industrial Mix, Jobs and Wages
Manufacturing is the dominant industry in northeastern Indiana, accounting for 31% of average employment (see Table 1). The average income in the manufacturing sector is $38,411. For more information on employment, hours and earnings, see www.stats.indiana.edu.
Click for enlarged image


Industrial Activity in Region 3: The Upside
Since 1983, 170 new industrial start-ups have occurred in Northeastern Indiana, 33 of which were automotive-related. The largest of these start-ups was the General Motors pickup truck assembly plant in Allen County in 1985.
Seventy companies invested almost $133 million in Region 3 during the first nine months of 2001 and more than 1,500 Region 3 jobs were created or protected. Some of the more significant activity includes the following:
AAA Galvanizing of Illinois brought 90 new jobs to Hamilton.
Upon acquiring the K-Mart contract, the Fleming Company of Dallas, TX moved its food distribution group to Fort Wayne, adding 500 new jobs.
Troyer Farms of Waterford, PA took over the former Seyferts Potato Chip facility, retaining production in Fort Wayne and saving 100 jobs.
PepsiAmericas, a vending machine re-manufacturer from Rolling Meadows, IL, brought 150 new jobs to Fort Wayne.
The following companies expanded their physical facilities by a total of 297,000 square feet and created or retained more than 600 jobs:
Custom Lights, Garrett
Bushe Enterprises, Albion
Forest River (RVs), Topeka
Cirrus ABS (technology design), BAE Systems (electronic aircraft controls) and B&M Fine Pack (plastic food containers), Fort Wayne
Meridian Automotive Systems of Ashley was acquired by its own management, thus saving 160 jobs.
Some of the recent nonindustrial activity in Region 3 includes the following:
August 2001 saw the opening of Jefferson Pointe, a $75 million, 64-store open-air mall in Fort Wayne, which is expected to create hundreds of retail-related jobs.
McLeod USA of Iowa opened a 200-employee customer call center in Fort Wayne.
Schneider National, the largest truck carrier in North America, plans to hire 200 local employees to drive for the Garrett Wal-Mart.

Industrial Activity in Region 3: The Downside
As an economy evolves, the rise of new businesses and sectors is usually accompanied by declines in other businesses and sectors. The northwest regional economy is no exception to this rule. Unfortunately, in 2001, more than 1,900 jobs were lost in Region 3 through plant closings, downsizing or indefinite layoffs. Some of the companies involved include C.F. Comma of Columbia City; Colwell General in Fort Wayne and Garrett; Fleetwood Homes in Decatur; Fort Wayne Foundry in Fort Wayne and Columbia City; Supervalu in Fort Wayne; and Auburn Gear in Auburn.