Indy-area communities dominate list of fastest-growing places in Indiana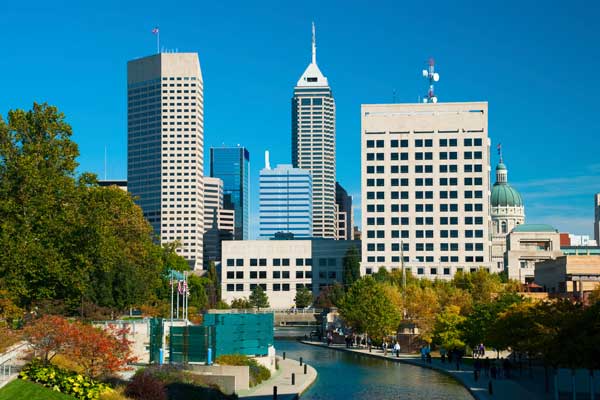 Downtown Indianapolis with view of the Canal Walk.
Ten of the 11 fastest-growing cities and towns in Indiana with a population of at least 5,000 residents are located in the Indianapolis metro area, according to the 2015 population estimates released by the U.S. Census Bureau.1
Whitestown in Boone County was the state's fastest-growing locale for the fifth consecutive year with a growth rate of 14.5 percent in 2015. Whitestown's population has nearly doubled in the last five years from 3,158 in 2010 to 6,013 in 2015.
McCordsville in Hancock County was the state's second fastest-growing place in 2015 with a growth rate of 6.1 percent, followed by Hendricks County's Brownsburg (5.5 percent growth), Hamilton County's Westfield (3.9 percent) and Bargersville in Johnson County (3.3 percent). As shown in Figure 1, the only communities outside of the Indy metro area to rank among the 15 fastest-growing places in the state were Lake County's Winfield and St. John, as well as West Lafayette (Tippecanoe County) and Seymour (Jackson County).
Figure 1: Indiana's 15 fastest-growing cities and towns, 2014 to 2015*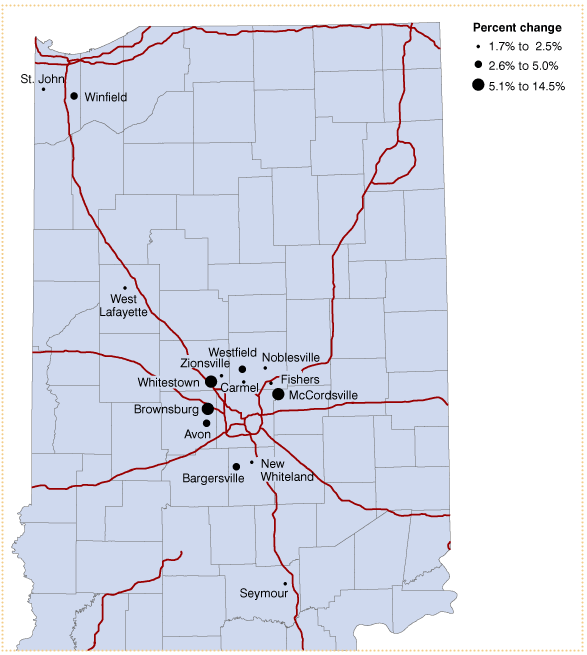 *With a population of at least 5,000 residents
Source: IBRC, using U.S. Census Bureau data
Indiana's largest cities
Indianapolis had the state's largest numeric gain with 4,188 new residents in 2015. The Circle City had seen a bit of a population surge in recent years, growing by an average of nearly 7,400 residents a year between 2011 and 2013, but the city's growth has slowed over the last two years (see Figure 2). Indianapolis grew by an average of roughly 3,800 residents a year between 2000 and 2010.
Figure 2: Annual population growth in Indianapolis, 2000 to 2015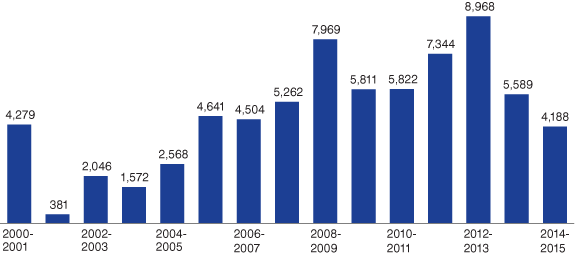 Source: IBRC, using U.S. Census Bureau data
With an estimated 862,781 residents, Indianapolis was the nation's 14th-largest city in 2015, ranking behind San Francisco (864,816) and ahead of Columbus, Ohio (850,106).
Fort Wayne continued to see stronger than normal growth in 2015 with an increase of 1,956 residents to reach a total population of 260,326. The state's second-largest city had grown by an average of only 79 residents per year between 2000 and 2012, but has added roughly 1,800 residents annually over the last three years.
South Bend is another of Indiana's larger cities to see an uptick in growth in recent years. South Bend grew by 311 residents in 2015 to reach a total population of 101,516, good for a fourth-place ranking on the list of the state's largest cities. South Bend had averaged a decline of more than 600 residents per year between 2000 and 2012, but has reversed course lately by adding an average of 240 people a year since 2013.
Evansville—which had a population decline estimated at 344 residents in 2015—is the only other Indiana city with a population above the 100,000 mark, with a total of 119,943 residents last year. The rest of Indiana's 10 largest cities and towns include Carmel (88,713), Fishers (88,658), Bloomington (84,067), Hammond (77,614), Gary (77,156) and Lafayette (71,111).
In all, 13 of Indiana's 20 largest cities posted a population increase in 2015 (see Figure 3). Of this group, the three fastest-growing communities were Hamilton County's Fishers (2.5 percent growth), Noblesville (2.3 percent) and Carmel (2.1 percent). Greenwood (1.7 percent) and Jeffersonville (1.1 percent) rounded out the top five fastest-growing communities among the state's larger cities and towns.
Figure 3: Indiana's 20 largest cities and towns, 2015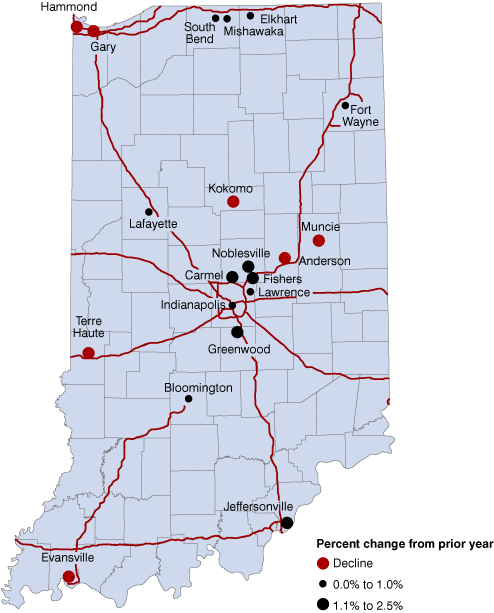 Source: IBRC, using U.S. Census Bureau data
At the other end of the spectrum, the neighboring communities of Gary and Hammond in Lake County had the state's largest population declines last year, with each losing more than 800 residents in 2015.
The population losses in Gary continue to mount. According to the Census Bureau, Gary's population has fallen by 25 percent in the last 15 years, from 102,746 at the time of the 2000 census to an estimated 77,156 in 2015. Gary was Indiana's fifth-largest city in 2000 but ranks as the state's ninth-largest community in 2015.
Other larger Indiana cities with losses last year include Muncie (-196), Anderson (-193), Terre Haute (‑147) and Kokomo (-87).
Around the state
In 2015, 435 of Indiana's 1,010 townships either held steady or added population.2 Of this group, 11 townships—all in Indy-area suburban counties—had a growth rate of 2 percent or higher (see Figure 4). Another 69 townships grew at a pace between 1 percent and 2 percent in 2015. More than half of the state's townships registered a loss last year, with 63 of them declining at a rate of 1 percent or more.
Figure 4: Percent change in township population, 2014 to 2015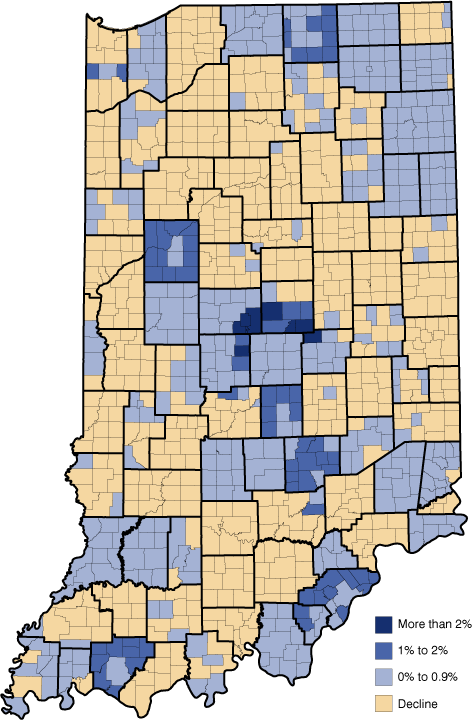 Source: IBRC, using U.S. Census Bureau data
Looking at differences between urban and rural communities, the data show that most Hoosiers live in cities or towns. Of Indiana's 6.62 million residents in 2015, 66.5 percent live in incorporated places. This share is up slightly from the 66.2 percent mark in 2010. Indiana's cities and towns as a group accounted for 83 percent of the state's total population growth in 2015.
For more information about these estimates, visit the population topic page at STATS Indiana.
Notes
The Census Bureau adjusts its population estimates for sub-county areas each year to account for city and town boundary changes. Therefore, boundary changes do not contribute to any population changes reported in this article.
In this article, the term "townships" refers to all county subdivisions as determined by the U.S. Census Bureau. This includes places, such as Zionsville (in Boone County) and Yorktown (in Delaware County), where the towns have assumed the township responsibilities, so there is no separate township government.