Print this article
Hispanics Continue to Gain Population Share in Indiana
With numbers topping 315,000, Hispanics now account for 5 percent of the total population in Indiana, according to the recent 2007 population estimates from the U.S. Census Bureau. Since Census 2000, Indiana's Hispanic population has grown by nearly 100,550 people.
Despite this rapid growth, Indiana still has a relatively small Hispanic population compared to elsewhere in the nation (see Figure 1). While Hispanics account for 15 percent of the total U.S. population, Indiana ranks 31st on this measure among the 50 states and the District of Columbia. Our 2000-2007 growth rate of 47 percent places us in the middle of the pack with a rank of 23. Nationwide, growth rates in the Hispanic population ranged from 9 percent in the District of Columbia (4,060 people) to 77 percent in South Carolina (73,850 people). On the other hand, the largest numeric increases have occurred in California, Texas and Florida, who have each seen Hispanic population growth between 1 million people and 2.25 million people since Census 2000.
Figure 1: Hispanic Population as a Percent of Total Population, 2007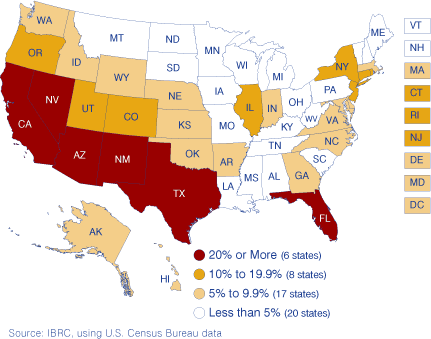 A Look at Race
Figure 2 shows Indiana's latest population estimates by race.1 The vast majority of Hoosiers are white (88 percent), with approximately 572,000 blacks accounting for 9 percent of the population. Asians are a distant third with about 86,000 people, accounting for a little over 1 percent of the population.
Figure 2: Indiana's Population by Race, 2007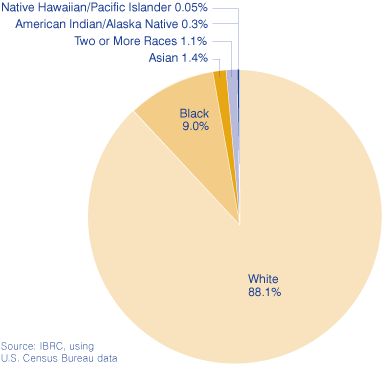 Looking at growth rates since Census 2000, Asians led the pack, increasing roughly 42 percent (25,260 people). This was followed by a 30 percent increase (16,650 people) in those of mixed racial backgrounds. Meanwhile, the black population increased by 11 percent (55,440), while whites increased by only 3 percent (164,000 people).
If you're confused because Hispanics are not showing up in this part of this discussion, remember that the Census Bureau considers that an ethnicity, not a race. Thus, an individual can be a black Hispanic, a white Hispanic, or even an Asian Hispanic.
How do Hoosier Hispanics define their race? The population estimates are slightly problematic in this regard because many Hispanics don't think of their race in terms of black or white. In Census 2000, many Hispanics selected "Some Other Race" instead of a predefined race category; however, the annual estimates force everyone into one of the five standard categories.2 Because of this imputation in the estimates data, it is much more instructive to look at the Census 2000 numbers. We find that Hoosier Hispanics view their race essentially the same way as Hispanics nationwide. As shown in Figure 3, nearly half (46 percent) defined themselves as white, followed closely by the 44 percent who chose the "Some Other Race" category.
Figure 3: Race of Hoosier Hispanics, Census 2000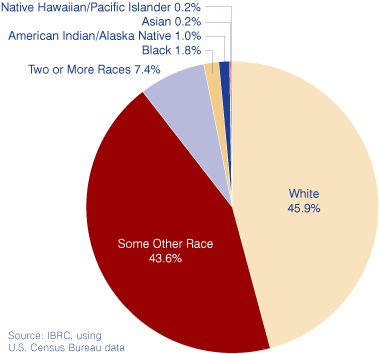 Looking Forward
The changing racial and ethnic make-up of Indiana's population is important for policy makers and businesses to note. What changes can we expect in future years? In a few months, the Indiana Business Research Center will release population projections by race and ethnicity for 2010 to 2040, which can help inform the ongoing discussion.
Notes
These race figures are for those reporting a single race. Those reporting multiple races (e.g., black and white) are in the "Two or More Races" category (and thus are not counted in both the black and white categories).
When Census 2000 was edited to produce the estimates base, respondents who selected the "Some Other Race" category alone were assigned to one of the Office of Management and Budget (OMB) mandated categories using results imputed from a "donor." For those respondents who selected the "Some Other Race" category in addition to a predefined race category, those respondents appear in the single OMB race category in the estimates base instead of the "Two or More Races" category.
Rachel Justis, Managing Editor
Indiana Business Research Center, Kelley School of Business, Indiana University