Print this article
Gifts for Dad
President Lyndon Johnson designated the third Sunday in June as Father's Day in 1966 (57 years after the idea was introduced), and President Nixon made it official in 1972. On the 97th anniversary of the year the idea was born, many Hoosiers and Americans alike will be trying to find that special gift for Dad. Doing so is more difficult than it probably should be, given the numbers.
At the national level, the retail trade industry boasted more than 1.1 million establishments in 2002 and employed over 14.6 million people. Indiana makes up 2.2 percent of those stores and ranks 14th among the 50 states and the District of Columbia for its number of retail establishments (see Figure 1). Each of the following retail industry subsectors ranked Indiana in the top 20 and could spark some gift ideas for Dad: men's clothing, hardware, home center, sporting goods and nursery, garden center, and farm supply stores.
Figure 1: Retail Establishments as a Percent of Population by State, 2002
With that in mind, one thing is for certain: Hoosiers have options. Looking for a necktie? Shoppers have 161 men's clothing stores to choose from across the state, or 1.7 percent of all menswear stores in the United States.
Is Dad a handy-man? Shoppers in Indiana will have a good shot at finding the perfect set of tools, be it hammers, wrenches or screwdrivers. There were 387 hardware stores and 137 home centers dotted across the state in 2002, pulling in nationwide ranks of 13th and 14th place, respectively (see Figure 2).
It shouldn't be too difficult to find sporting goods for the more active men in Indiana this Father's Day, with a total of 481 stores to choose from.
Figure 2: Establishments in Indiana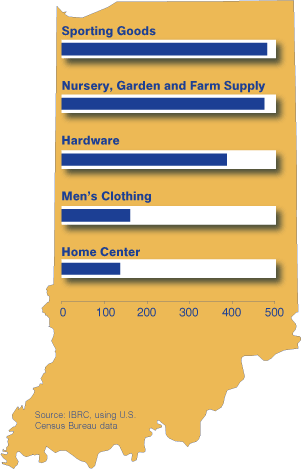 And for the fathers who enjoy spending time working in Hoosier soil or those with an environmentally-friendly mindset, Indiana's 476 nursery, garden center and farm supply stores secure another 13th place ribbon for the state and provide a variety of possibilities for gifts.
For those of us just beginning to think of a gift for dad, being low on options isn't an excuse. With Indiana's 24,322 retail establishments (men's clothing, hardware, home center, sporting goods and nursery, garden center, and farm supply stores make up 6.8 percent of that number), there is bound to be something every father can enjoy.
Molly Marlatt, Research Associate
Indiana Business Research Center, Kelley School of Business, Indiana University