July's Unemployment Snapshot
According to preliminary non-seasonally adjusted labor estimates released by the Indiana Department of Workforce Development, Indiana's July 2004 unemployment rate is 5.2 percent—a 10.6 percent increase over the June rate. The state rate has gone up over the month, but that is not surprising when we look at over-the-month unemployment rate changes since 1989. In the past fourteen years the State has only seen a decline in its unemployment rate once between June and July.
Commerce Region 4 is driving the state rate increase and it is not a singular phenomenon (see Figure 1). This region has had the highest monthly change in seven of the past 14 years. In July 2004, Commerce Region 4 had an unemployment rate of 11.9 percent, which is a 91.9 percent increase over its June number. With manufacturing comprising the lion's share of this region's employment, temporary plant shutdowns that often occur in July can impact the rates significantly.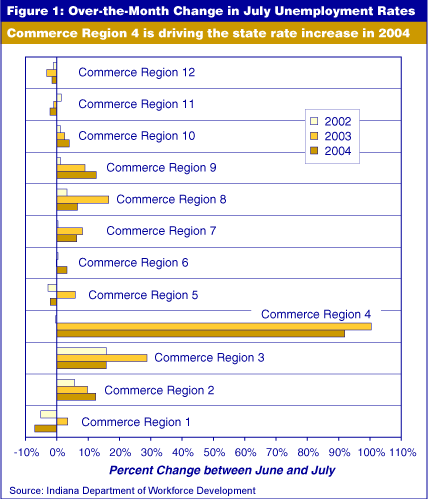 Dubois, Boone, Monroe and Hamilton counties had the lowest unemployment rates and Howard, Miami and Grant counties had the highest (see Figure 2).
While some of the over-the-month movements seem dramatic, the four counties with the lowest unemployment rates have seen improvements over the year and are in good company. Out of Indiana's 92 counties, 75 have shown either no change or decreases in the unemployment rate over the year.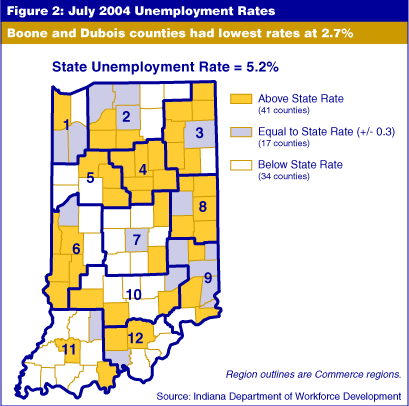 Amber Kostelac
Data Manager, Indiana Business Research Center, Kelley School of Business, Indiana University