Print this article
An Update on Indiana's Working Women
For every dollar the average Hoosier man earns, the Hoosier woman earns just two quarters, one dime, a nickel and three pennies. The following highlights this wage gap and other statistics concerning Indiana's working women (those working full-time year-round).
These data are from the U.S. Census Bureau and the U.S. Bureau of Labor Statistics and are based on reference year 2003 unless otherwise noted. The American Community Survey is a household survey of 800,000 households nationwide with a time series beginning in 2000 for states. The Bureau of Labor Statistics data are based on estimates from the Current Population Survey of 60,000 households each month. Census 2000 data were collected on a one-in-six household sample for earnings and education (the long form).
Working Women
Of the 2.4 million women age 16 and older in Indiana, 62 percent are in the labor force.
In 2003, Hoosier women working full-time and year-round had median earnings of $27,207, compared to a median of $39,849 for men. That is a wage gap of $12,642. To put it in other ways, the ratio of women's full-time earnings to that of men's is .68 to 1, or 68 cents to the dollar (see Figures 1 and 2).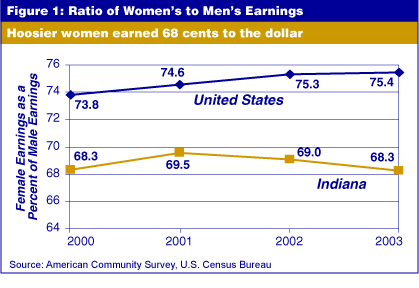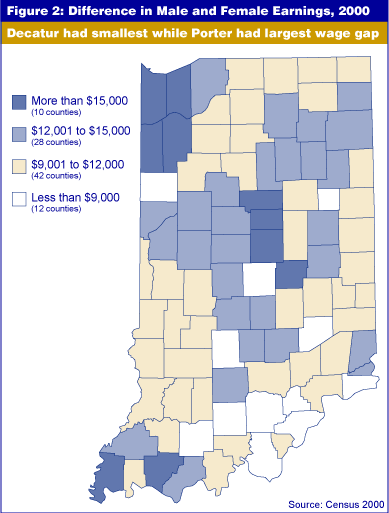 Click to view larger image with county names
Indiana's working women are well-educated: 53 percent of them have at least some college or higher levels of education, such as bachelor's degrees and master's degrees (see Figure 3).
More than 50 percent of full-time working Hoosier women work in lower-paying occupations (Indiana's BLS median wages are shown in parentheses): 24 percent in office or administrative support ($24,120); 19 percent in service jobs, such as health care support ($21,110), food preparation or serving ($15,080) or personal care services ($17,840); and 12 percent in sales ($19,530).
Table 1 illustrates how Indiana's full-time working women compare to those in surrounding states. Earnings in Indiana and Michigan may be affected by the influence of high-wage auto jobs held mostly by men.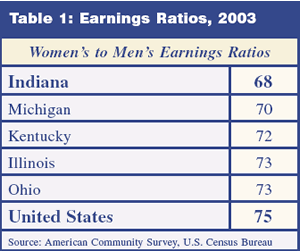 Working Mothers in 2000
Seventy-three percent of Indiana women with children under 18 were in the labor force.
Children with single mothers: 79 percent of those children's mothers were in the labor force.
Thirty percent of single mothers with children under 18, and 42 percent of single mothers with children under 5, lived in poverty (see Figure 4).
Carol O. Rogers
Associate Director, Indiana Business Research Center, Kelley School of Business, Indiana University