Economic projections for Indiana's metro areas in 2023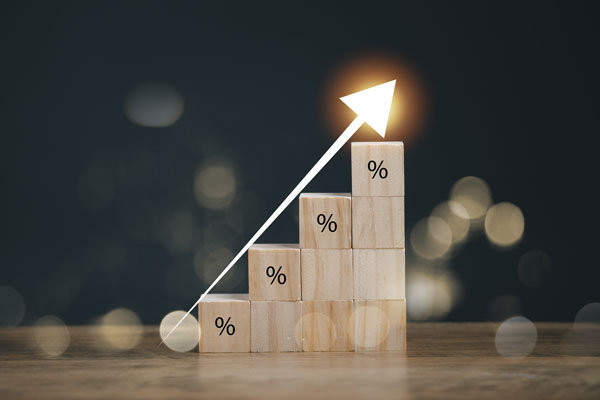 Inflation and rising interest rates will be key influences in many Indiana metro economies in the coming year.
As 2022 came to a close, economists throughout Indiana turned their focus to the new year, in hopes of forecasting what's to come in 2023. During the Business Outlook Panel tour in November, experts shared their forecasts for Indiana's metropolitan statistical areas (MSAs) at nine events hosted in various cities throughout the state. Unsurprisingly, many of these outlooks cited inflation, interest rate hikes by the Federal Reserve, ongoing supply chain issues and geopolitical turmoil (ex. the war in Ukraine) as critical factors that will influence the economic trends of the coming year.
Below are some highlights from our panel of professors, researchers and economists about what to expect in Indiana's local economies in 2023. For their full analyses, check out the Outlook issue of the Indiana Business Review.
---
Bloomington

Carol O. Rogers, Indiana Business Research Center
Overall, we anticipate a mild retraction of the economy in Bloomington through the next year, essentially slowing growth in jobs, wages and productivity. Looking at jobs, we forecast up to 78,000 jobs by the end of 2024 in the metro area. This is in stark contrast to the lows of the pandemic at the beginning of 2021.
Productivity, as measured by the Bloomington metropolitan area gross product (GDP), has grown from $5.7 billion back in the early days of the Great Recession of 2010 to $6.68 billion by 2021. Over the worst year of the pandemic (2020), Bloomington saw impressive growth of 3.8%. We forecast marginal growth for 2023, with some acceleration in 2024. Overall, our forecast is overcast by the combination of continued Federal Reserve Bank interest rate hikes and stubborn inflation, which continues to dampen consumption and increase supply costs.
For a region with a strong goods-producing sector, coupled with a well-educated workforce and strong income growth, the recession, if and when it comes to Bloomington, may well be stunted in its effects.
Read full Bloomington article »
---
Columbus



Dr. Steven H. Mohler, IUPUC
Dr. Ryan Brewer, IUPUC
Jason Hester, Greater Columbus EDC
Local unemployment rates remain lower than the national and state averages in the aftermath of the pandemic shutdown. Indiana's and Columbus' low unemployment rates are derived from an emphasis on manufacturing, which experiences tighter labor markets during economic expansions.
Three scenarios are presented as economic forecasts for the Columbus MSA: a soft landing, moderate landing (most likely) and hard landing - terminology used in relation to the Federal Reserve monetary policy actions.
In the "moderate landing" scenario, Columbus may experience declining real GDP between 1.0% to 4.0%. Weakness in the automotive and durable goods sector, fueled by continued supply chain issues and high interest rates, combined with declining consumer confidence, would be key to this scenario.
Unemployment may increase slightly to 3.0% to 4.0% in 2023 due to slack in the manufacturing sector and the addition of up to 1,500 new entrants into the job market. In this scenario, the number of employed is expected to increase by between 0 and 1,000 in 2023. We expect this economic weakening to materialize in the second half of 2023.
Read full Columbus article »
---
Evansville

Dr. Mohammed Khayum, University of Southern Indiana
The unemployment rate in the Evansville metro decreased from 2.5% in January 2022 to 2.3% in September 2022. The number of additional jobs estimated for 2022 is 4,670. The increase in jobs occurred primarily in the following sectors: manufacturing; professional and business services; and health services. The primary activities experiencing jobs losses were retail trade and government.
In 2023, the number of jobs is projected to increase by 1,700, nominal personal income growth is forecasted to increase by 6.9%, real output is expected to increase by 2.5% and the unemployment rate is forecasted to be 2.7%.
Read full Evansville article »
---
Fort Wayne


Rachel Blakeman, Purdue University Fort Wayne
Dr. Heather L.R. Tierney, Purdue University Fort Wayne
The Fort Wayne-area housing market faces uncertainty – prices, inventory, affordability – going into 2023, which is an uncomfortable place for buyers and sellers alike, especially after the pandemic-fueled frenzy of low interest rates and remarkable demand of the past two and a half years. The market shifts should be more incremental than seismic in the next year, barring any unforeseen shocks.
Looking ahead to the 2023 unemployment rate for the Fort Wayne metro, our modeling suggests more of the same of what we experienced in 2022: full employment with little slack of unemployed workers seeking paid employment, absent any shocks to the economy. All econometrics models employed seem to come to the same conclusion that next year's unemployment rate is expected to hover close to 2%.
Read full Fort Wayne article »
---
Gary

Dr. Micah Pollak, Indiana University Northwest
Even with a higher-than-typical annualized inflation rate of 4.8% since 2019, earnings in Northwest Indiana have not only kept pace but exceeded the rise in prices with average earnings rising 6.7% per year since 2019. Compared with 2019, the purchasing power of worker earnings in Northwest Indiana has risen by 1.7% per year after adjusting for inflation.
One of the reasons Northwest Indiana has fared better than the rest of the state with growth in real earnings is that employment in the region is concentrated in industries for which earnings are rising quickly, such as manufacturing; retail trade; wholesale trade; and accommodation and food services.
Northwest Indiana is grounded in industries that have recovered quickly from the economic crisis caused by the pandemic. Despite national concerns over a potential recession, the forecast for the coming year in Northwest Indiana is economic growth which will at least keep pace with inflation. The most significant long-term challenge the region faces is not from inflation, but from a declining labor force.
Read full Gary article »
---
Indianapolis-Carmel-Anderson

Dr. Phil Powell, Indiana University
The Indianapolis metro area expects 2.7% real GDP growth in 2022 and 0.8% in 2023. In a normal year, real GDP grows between 2.0% and 3.0%. An expected rise in the federal funds rate from 0.8% in the second quarter of 2022 to 4.5% through the fourth quarter of 2023 will dampen demand and severely slow growth within the economy. Spending on goods will especially decline and have a disproportionately negative impact on regional economies that rely upon manufacturing.
With a forecast of slower growth, unemployment is expected to increase to 4.2% nationally, 3.4% in the state and 3.0% in Indianapolis during 2023. The pandemic accelerated retirements and motivated many of working age to leave the labor force. This combined with demographic shrinkage in the annual number of young adults leaving school suggests continued tightness in the availability of talent in Indianapolis. For this reason, any spike in unemployment will be mild when compared to economic slowdowns in the past.
Read full Indianapolis-Carmel-Anderson article »
---
Kokomo

Dmitriy V. Chulkov, Indiana University Kokomo
New investment by Stellantis, as well as the re-tooling of existing facilities, is expected to provide a positive impact on the region's employment and wages in 2023 and beyond. The Kokomo MSA lagged other metropolitan areas of the state in employment growth in 2021-22. This trend is expected to reverse in 2023-24. Projections made by the Indiana University Center for Econometric Model Research (CEMR) demonstrate that Kokomo is expected to shift from a decline in total employment to significant growth in the next two years.
Read full Kokomo article »
---
Lafayette

Tanya Hall, Purdue University
According to 2021 data, the region has grown economically, despite tight labor markets and housing inventory. Looking ahead to 2023, current economic conditions are signaling a more tepid growth due to pressures from inflation and rising costs for both goods and labor.
Looking forward to 2023, if the economic trends continue, then the MSA will maintain a tight labor market, with employers competing for workers in a limited pool of candidates. It is predicted that the labor force will continue to slowly grow and unemployment rates will stay in the upper 1% to lower 2% range – which indicates full employment. However, at the time of this writing, strong headwinds of inflation, rising labor costs and worker shortages are affecting markets and causing nationwide firms to begin layoffs. Thus, there is a chance that similar activity occurs in the Lafayette MSA, resulting in fewer employed individuals and rising unemployment rates in the 3% or 4% range.
Read full Lafayette article »
---
Louisville

Dr. Uric Dufrene, Indiana University Southeast
Looking ahead to 2023, we can expect growth to slow from 2022. As the nation's economy enters a recession in the next year, we don't expect Louisville payroll growth to exceed 2022 levels. While we can expect to see an overall deceleration in economic activity, the impact of a national recession will be relatively mild on the Louisville metro. Our 2023 outlook is the addition of 10,000 jobs and an unemployment rate that will approach 4.5%.
The Louisville metro added 30,000 jobs from September 2021 through September 2022. Excluding the abnormally large changes that occurred in 2021 due to the Covid recession, an addition of 30,000 jobs represents the largest absolute year-over-year change in the past 30 years. Louisville payrolls now exceed the February 2020 level by approximately 10,000. Since the payroll trough that occurred in 2020, the Louisville metro has added approximately 113,000 jobs.
Payroll gains will decelerate into 2023, and the total change in payrolls will be approximately one-third of the change for 2022. However, our outlook does not expect an overall decline in job growth.
Read full Louisville article »
---
Muncie


Dr. Dagney Faulk, Ball State University
Cade Deckard, Ball State University
The Muncie metro area experienced low unemployment rates over the last year with several months coming in below 3%. The labor force, which consists of employed persons along with persons actively looking for work, is finally approaching pre-pandemic levels and grew from 51,714 to 53,241 during this period (September 2021 to September 2022). Before the pandemic, Muncie's labor force topped 54,000 in 2019. With an increased labor force post pandemic and the high number of current job openings, we expect the unemployment rate to remain low, between 3% and 4% during the coming year, even as the macroeconomy adjusts to higher interest rates and the likelihood of recession.
The indicators presented in this analysis show that the Muncie metro is recovering from the pandemic recession. Labor force participation has increased over the past year, unemployment has decreased and the number of total food stamps has decreased. Employment has increased particularly in sectors like leisure and hospitality, financial activities and retail that were hit hard by the pandemic. Several industry sectors, including health care and social services, have experienced real (inflation-adjusted) wage gains. The housing indicators are consistent with a hot housing market that is likely to cool over the coming year as interest rate increases filter through the economy.
The Indiana University Center for Econometric Model Research's forecast shows employment growth of 1.9% in the Muncie MSA over the next two years as the metro continues to recover from the pandemic, while income is projected to increase 4.5% during 2023.
Read full Muncie article »
---
Richmond

Dr. Oi Lin Cheung, Indiana University East
The IU East Regional Business Confidence Index (IUERBCI) and its sub-indexes, composed from local business operators' responses to the annual business survey conducted in the region, all declined in 2022. The IUERBCI decreased by 3.6% to 88.58 points, indicating that businesses in the region had less confidence in doing business in 2022 as compared with the year before. At the same time, its Present Situation sub-index (83.49 points) decreased by 2.6% while its Expectation sub-index (91.44 points) also dropped by 5.1%. Both declines suggest that surveyed businesses in the region experienced a worse year in 2022 than the year before, and that they also have a worse outlook for 2023 than they did for 2022.
Although the impact of COVID-19 on businesses has appeared to weaken gradually, relatively high inflation and the disruption in the supply chain due to various reasons continue to present challenges to business operations in the region. As a result, we project that the unemployment rate for the region will likely swing in a wide range around 3% through 2023.
Read full Richmond article »
---
South Bend-Mishawaka and Elkhart-Goshen

Dr. Hong Zhuang, Indiana University South Bend
The South Bend-Mishawaka MSA unemployment rate in 2023 is predicted to rise to between 4.5% and 4.75%. The South Bend-Mishawaka MSA has a higher share of manufacturing employment (11.6% relative to 8.4% at the national average) that could drive the local unemployment rate above the national average when the economy contracts.
The Elkhart-Goshen MSA's unemployment rate could move up to between 5.5% and 6.0% in 2023, given the dominant role of the RV industry in its economy. The aforementioned economic headwinds, such as the elevated interest rate, the high inflation rate, high energy prices and intensified uncertainty in 2023, could turn consumers away from buying durable goods, like RVs.
Read full South Bend-Mishawaka and Elkhart-Goshen article »
---
Learn more
Visit www.ibrc.indiana.edu/ibr to read the in-depth metro analyses, as well as projections for the nation, state, financial markets and more.