How much employment recovery should we expect for Indiana's metro areas in 2021?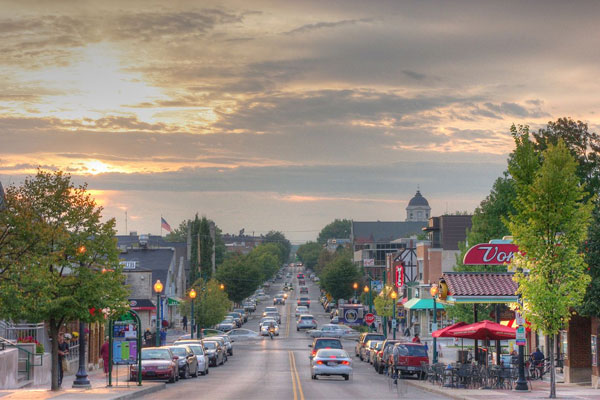 Unemployment in the Bloomington metro is already nearing pre-pandemic levels.
Photographer credit: Yahala, CC BY-SA 3.0, via Wikimedia Commons
Economists from around the state recently shared their forecasts for Indiana's metropolitan statistical areas (MSAs) during the Business Outlook Panel virtual tour, which held 10 regional events this past November. Replays of these events are available on the Indiana Business Research Center's website. Needless to say, recovering from the COVID-19 pandemic and continued uncertainty were common themes throughout the state.
Here are some highlights from our panel of experts in terms of local employment trends and expectations for 2021 within the state's metro areas. Certain areas of the state are poised to recover faster than others. For the full analysis, check out the complete Outlook 2021 issue of the Indiana Business Review.
Bloomington


Jennifer Pearl, Bloomington Economic Development Corporation
Carol O. Rogers, Indiana Business Research Center
Private employment is almost fully recovered already. Of the 10 BLS supersectors, eight have either increased employment relative to January or are almost recovered (as of September, the most recent data at the time of this analysis). Unemployment in the Bloomington metro is already nearing pre-pandemic levels. Notably, the resident labor force in the metro has actually grown (81,463 as of September) compared to where it was back in January (80,951). Employment growth is expected to continue in 2021.
Read full Bloomington article or watch the Bloomingon Business Outlook Panel replay.
Columbus

Dr. Steve H. Mohler, IUPUC
Unemployment is expected to decrease slightly to 3%-4% in 2021, with new participants entering into a job market with overall employment returning to 2017 levels. This will be complicated by continued challenges for the hospitality industry in the first half of 2021. The quick recovery of U.S. light vehicle sales in 2020 should influence production in 2021. Any negative economic pressures will be somewhat offset by strong average weekly wages, which may spur retail sales and keep durable goods sales levels increasing.
Read full Columbus article or watch the Columbus Business Outlook Panel replay.
Elkhart-Goshen and South Bend-Mishawaka

Dr. Hong Zhuang, Indiana University South Bend
As long as COVID-19 remains a significant issue, consumer demand in leisure and hospitality, sensitive retail and personal services will continue to lag in 2021. Softened business investment and a worsened government budget hinder the labor market recovery. In South Bend-Mishawaka, the unemployment rate could be 7%-8%, on average. In Elkhart-Goshen, the unemployment rate will be around 6%-7%. The lower unemployment rate in Elkhart-Goshen is attributed to the recreational vehicle (RV) industry rebound.
Read full Elkhart-Goshen and South Bend-Mishawaka article or watch the South Bend Business Outlook Panel replay.
Evansville

Dr. Mohammed Khayum, University of Southern Indiana
The relatively rapid rebound in output and employment in the third quarter highlights the likelihood of a short-lived COVID-19-induced recession in the Evansville region. Job gains occurred primarily in the information, finance and insurance sector, as well as the professional, scientific and technical services sector. The primary activities experiencing jobs losses in 2020 were wholesale and retail trade, the administrative, support, waste management and remediation services sector, construction, and manufacturing. Overall, employment and output are expected to increase in 2021.
Read full Evansville article »
Fort Wayne


Rachel Blakeman, Purdue University Fort Wayne
Dr. Heather L.R. Tierney, Purdue University Fort Wayne
America's economic confidence is key to Fort Wayne's economy. With its dependence on manufacturing for both employment and gross domestic product, Fort Wayne's economic vitality hinges on people purchasing goods made here. Like the rest of the nation, Fort Wayne's unemployment rate spiked in April with nearly 42,000 people out of work, followed by a downward trend. The year 2020 leaves us with more questions than answers about 2021. The unknown priorities of the federal government combined with the economic and public health threats from COVID-19 mean economic contraction could define the year, or Fort Wayne could return to full-throttle employment and a healthy economy. It's anyone's guess.
Read full Fort Wayne article »
Gary

Dr. Micah Pollak, Indiana University Northwest
While the most severe shocks to employment that the region experienced early in the pandemic and during the statewide stay-at-home order have mostly reversed, employment in almost every single sector remains well below normal levels. Over the next year, we can expect employment to continue to rise slowly across most sectors. However, most of the easier to achieve employment gains have already been realized. Employment in 2021 is forecasted to rise 4.3% to 341,000 (or up from the severely depressed level of 326,900 in 2020), but that is still well below 2019 employment of 351,400. Despite this forecasted growth in 2021, regional employment is expected to remain below pre-pandemic levels until 2024 or later.
Read full Gary article or watch the Schererville/Northwest Indiana Business Outlook Panel replay.
Indianapolis-Carmel-Anderson

Dr. Kyle Anderson, Indiana University
The Indianapolis-area economy will have lost an estimated 43,000 jobs over the course of 2020. Based on estimates from the Indiana University Center for Econometric Model Research (CEMR), we forecast that these jobs will largely be recovered in 2021, leaving the total employment numbers by the end of 2021 very close to where they were by the end of 2019. While this sounds like a strong recovery, it essentially means we will have lost two years of growth due to the pandemic that we may never recover. (Average annual job growth over the last five years leading up to 2020 was 15,800.)
In addition, downtown Indianapolis faces several challenges due to the COVID-19 crisis that indicate a longer recovery period. First, downtown is dependent on the tourism and convention business, which has been devastated by COVID-19 and will likely remain depressed well into 2021. Secondly, the work-from-home trend that was a response to the pandemic has also impacted downtown significantly. While offices will eventually reopen, there is a good chance that at least some of the work-from-home transition will be permanent. This means that downtown office real estate will likely see higher vacancy rates and declining lease rates by as much as 5%. In addition, the businesses that support downtown workers, from parking operations to lunch places, could be in for a challenging period for several years to come.
Read full Indianapolis-Carmel-Anderson article or watch the Indianapolis-Carmel-Anderson Business Outlook Panel replay.
Kokomo

Dr. Alan G. Krabbenhoft, Indiana University Kokomo
While unemployment rates for the U.S. and Indiana rose to approximately 15% in April 2020, Howard County had the unenviable position of having the highest unemployment rate in the state at 33.5%. While the magnitude of the county's single-month increase is incredible, it is hardly surprising given the county's heavy dependence on Fiat Chrysler Automobiles. When the casting and transmission facilities shut down, roughly 8,000 workers were unemployed. Our economic future is heavily dependent on furthering the diversification of the regional economy beyond the automobile and transportation sectors. With COVID-19 numbers on the rise, the hope is that manufacturing will be relatively unaffected by any resurgence in 2021 given that the companies have already implemented safety standards (e.g., masks and social distancing).
Read full Kokomo article or watch the Kokomo Business Outlook Panel replay.
Lafayette

Tanya Hall, Purdue University
The Lafayette MSA consistently had lower unemployment rates between April and September (the most recent data at the time of this analysis) than the state and nation. But it is worth noting that the number of individuals in the labor force dropped by 10,100 from its February peak to September 2020. Individuals may have dropped out of the labor force for personal or professional reasons associated with the pandemic. For 2021, the MSA will continue to rebound, with dropping unemployment rates. Most of the job growth will likely be in the service-providing sectors as they had the strongest contraction due to the pandemic. As the economy recovers and individuals reenter the workforce, the goods-producing sector (manufacturing and construction) will likely also grow.
Louisville

Dr. Uric Dufrene, Indiana University Southeast
The year 2020 will go down as a year that observed both the steepest job losses and largest gains for the Louisville metro. April saw unprecedented job losses due to pandemic-induced shutdowns. In the months following, job gains have been strong relative to normal economic conditions, but have yet to fully recover from the massive job losses in the first half of the year. In 2021, we will see additional job gains, and the region is expected to fully recover job losses by late 2021. Growth is expected across all sectors, with strength in manufacturing, professional and business services, leisure and hospitality, transportation and warehousing, and health care.
Read full Louisville article or watch the New Albany Business Outlook Panel replay.
Muncie


Dr. Dagney Faulk, Ball State University
Sean Weiss, Ball State University
The Muncie metro continues to see a higher unemployment rate than the state of Indiana. In addition, the region saw more decreases in the already downward trending labor force, with decreases of about 1,600 people between September 2019 and September 2020. This suggests that some people have stopped looking for work or decided not to work during the pandemic. The Muncie metro continues to struggle with a dwindling population, which ultimately affects the labor force and employment. The pandemic adds another barrier. Employment in leisure and hospitality and retail were particularly hard hit during the pandemic.
The leisure and hospitality sector has since recovered, but retail is still about 500 jobs below pre-pandemic levels—in part due to store closings at the Muncie Mall and growing consumer reliance on e-commerce. The Indiana University Center for Econometric Model Research's forecast shows employment growth of 3.9% in the Muncie MSA for 2021 as the region recovers from the pandemic-induced recession.
Terre Haute


Dr. Robert Guell, Indiana State University
Dr. Kevin Christ, Rose-Hulman Institute of Technology
It has long been taken as permanent and divine truth that Terre Haute suffers more and longer during recessions than the state and nation, but with the local unemployment rate falling faster than the U.S. rate, that does not appear to be the case this time. Both the casino and the convention center projects (likely to contribute more than $150 million in construction spending) are now likely to open in late 2021, ready to greet eager patrons in a post-pandemic world. For once, the timing couldn't be more perfect. Add to that an unexpected coup of a $40 million Veteran's Administration clinic on the city's east side, the construction business in Terre Haute will be peaking at exactly the time when the rest of the economy is simply trying to figure out how to operate in the midst of the pandemic.
In a sense, because of this uncharacteristically good timing, construction spending will keep the local economy afloat while the economic crisis spawned by the pandemic stalls other important sectors. These projects are likely to see the regional economy through whatever economic havoc the pandemic continues to wreak. We would be remiss, however, if we did not note that these relatively fortuitous developments are taking place against the backdrop of continuing population and employment decline.
Read full Terre Haute article »
Learn more
Visit www.ibrc.indiana.edu/ibr to read the in-depth metro analyses, as well as projections for the nation, state, financial markets and more.