Indiana Sees Big Gains in Population For Certain Cities and Towns
The Census Bureau recently released population estimates for all cities, towns and townships in the United States (as of July 1, 2007). The Indiana Business Research Center, in its role as the State Demographer and official representative to the U.S. Census Bureau for population, found the following highlights.
Largest Cities
Indianapolis was the 13th largest city in nation, ranking just behind Jacksonville, Fla., and ahead of San Francisco. Four Indiana cities had populations greater than 100,000 in 2007: Indianapolis (795,458), Fort Wayne (251,247), Evansville (116,253), and South Bend (104,069). Of these four largest cities, only Indianapolis has experienced consistent population growth since 2000, with an increase of 1.7 percent. In the past seven years, Fort Wayne has declined by 0.2 percent, South Bend by 3.8 percent and Evansville by 4.2 percent. Recently, however, Fort Wayne and Evansville have reversed this trend by registering over-the-year population increases in both 2006 and 2007.
Among Indiana's 20 largest cities shown in Figure 1, those with the greatest population declines since 2000 include Hammond (-6.8 percent), Gary (-5.9 percent), Evansville (-4.2 percent), Anderson (-4 percent) and Muncie (-3.9 percent). Fishers grew the fastest with a population increase of 69.1 percent between 2000 and 2007. Noblesville grew 39.4 percent, Greenwood grew 26.3 percent and Carmel grew 21.4 percent.
Figure 1: Indiana's 20 Largest Cities, 2007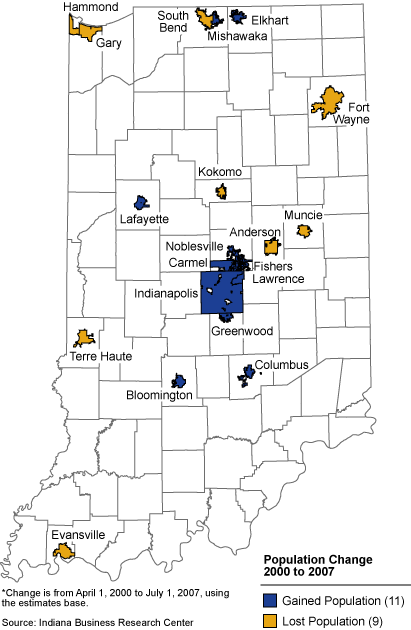 Fastest Growing Cities
The largest population growth for cities and towns in Indiana is concentrated in the Indianapolis metro area and Lake County (see Figure 2). The town of Winfield in Northwest Indiana (Lake County) is the fastest growing city or town in Indiana since 2000 with a 99 percent change in population, bringing its 2007 population estimate to 4,209. Following Winfield in terms of fast seven-year population growth are Kempton (88.4 percent), Fishers (69.1 percent), New Palestine (61.6 percent) and Pittsboro (51.7 percent).
Figure 2: Indiana's 20 Fastest Growing Cities and Towns Based on Percent Change, 2000 to 2007*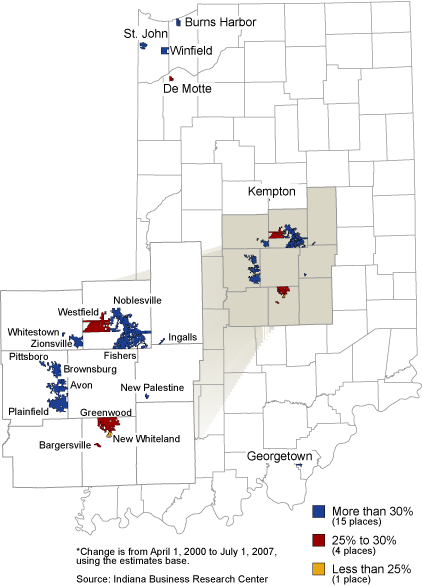 Town vs. Country
Sixty-five percent of Indiana's 6.3 million residents live in legally incorporated places. This share is down only slightly from the 2000 population estimate level of 65.5 percent.
A significant trend during much of the post-millennial decade has been population growth in unincorporated areas of the state. Unincorporated growth has outpaced growth in incorporated areas by a rate of 2.5 to 1 since 2000. Unincorporated areas have grown by more than twice as much—7 percent compared to 3 percent for all cities and towns taken as a whole.
The 2007 estimates show that this trend has reversed itself sharply in the last two years. Whereas 72 percent of Indiana's growth occurred in unincorporated areas of the state between 2000 and 2005, between 2006 and 2007, 70 percent of the state's growth occurred in incorporated cities and towns.
Township Population
Out of 1,009 townships statewide, 210 had a population of at least 5,000 in 2007 (see Figure 3). Not surprisingly, townships with high population were concentrated in the Indianapolis metro and around Lake County. Not only are these townships large, many are gaining population (see Figure 4). There were 20 counties in Indiana in which every township gained population from 2000 to 2007: Bartholomew, Boone, Clark, Dearborn, Dubois, Elkhart, Franklin, Hancock, Harrison, Hendricks, Jasper, Johnson, LaGrange, Monroe, Owen, Porter, Scott, Tippecanoe, Warrick and Whitley counties.
Figure 3: Indiana Township Population, 2007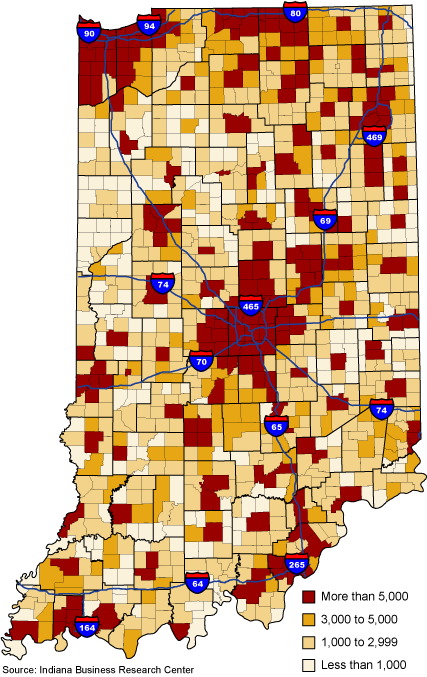 Figure 4: Indiana Township Population Change, 2000 to 2007*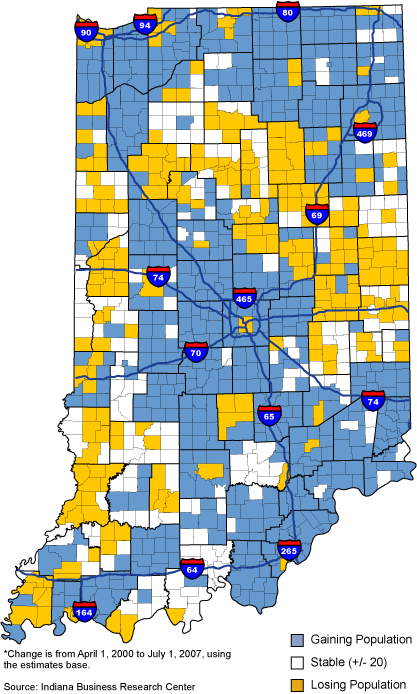 To access these data in their entirety, visit STATS Indiana (www.stats.indiana.edu) or Hoosiers by the Numbers (www.hoosierdata.in.gov).
Matt Kinghorn, Economic Analyst
Indiana Business Research Center, Kelley School of Business, Indiana University