Print this article
Farmland in Indiana
Nearly two-thirds of Indiana's 23 million acres are farmlands. Five of the state's 92 counties have more than 90% of their land area in farm uses (see Figure 1). Only six counties have less than one-third of their areas in farms.
Click on map to see larger version with data.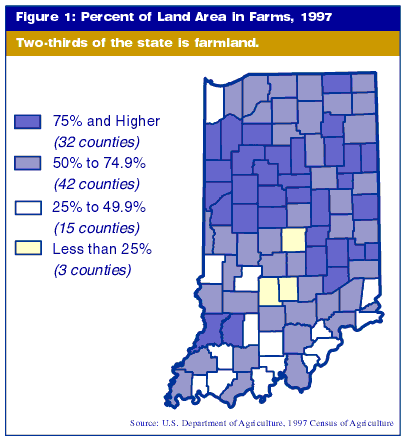 While it is no surprise that Benton, Adams, Tipton, Carroll and Clinton counties are the leaders in farmland usage, the counties at the other end of the spectrum are interesting. The presence of public park and forest lands puts Brown, Monroe, Floyd and Crawford counties among those with the lowest percentage of land in farms. Marion County has just 11.4% of its land in farms, but most other urban counties still have extensive farm usage. Martin County (with the Crane military facility) has less than one-third of its land in farms.
Farms and Land Values in Indiana
The U.S. Department of Agriculture reports that farmland in Indiana was valued at $2,064 per acre in 1997. The range extended from $5,019 in Floyd County to $1,992 in Perry County. As shown in Figure 2, the least-valued land is primarily in southern Indiana counties, while the most-valued land is in urban counties. Tipton is the only rural county in the top 13.
Click on map to see larger version with data.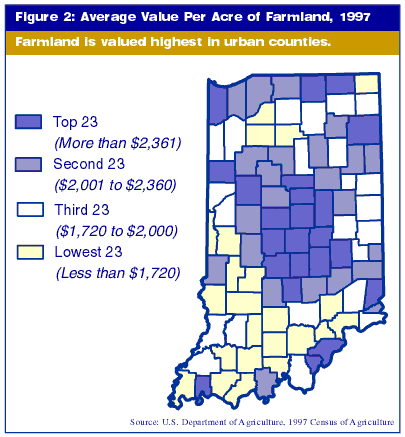 There were nearly 58,000 farms in the state in 1997. Seven counties, led by Allen, had 1,000 or more farms, while another seven each had fewer than 300. Brown County had the fewest farms (173), and Marion County still reported 225
(see Figure 3).
Click on map to see larger version with data.